Insurance Solutions
Insurance is essential to any comprehensive financial security plan. If tragic events like death, disability or critical illness strike, insurance can protect you and your family from undue hardship. It involves carefully reviewing your needs so that a comprehensive plan is in place to fulfill your obligations, provide for an estate for your family, and protect you and your loved ones should the unexpected happen.
I have access to a variety of insurance products that can help meet your financial security planning needs. No matter your personal situation—if you're single or in a family; a professional or a seasonal employee; an executive or small business owner—we will work together to design a customized plan.
Life Insurance
Life Insurance is coverage that gives your family or beneficiaries a tax-free cash payment (also called death benefit) after you die.  This way, they can help take care of their financial needs even after you're gone. Life insurance helps protect the financial security of the people who are depending on you.
Whether you want help covering final expenses or building a legacy, you can protect your family or business with term, permanent insurance or no medical & simplified Issue Life Insurance
Term Insurance
Offers temporary protection for a chosen period of time like 10, 20 or 30 years. During this term, the premiums you pay are fixed. Once the term expires, you often have the option to renew at new rates, or convert to a permanent life insurance plan without having to answer questions about your health.
Term insurance can be simpler and more affordable than other types of life insurance products.
Permanent Insurance
Offers protection for the entire life of the insured, in addition some policies also accrue cash value. There are several types of permanent life insurance plans:
Term 100 Life Insurance – offers protection for life, with fixed premiums up to age 100.
Whole Life Insurance – offers consumers guaranteed cash value accumulation at a fixed premium.
Universal Life Insurance – offers cash value accumulation where you have the freedom to make your own investment choices.
Final Expenses Insurance
Simplified Issue & No Medical Permanent Life Insurance (Whole Life Insurance) provides lifetime protection. This type of coverage is ideal for permanent needs such as final expenses.
Your life insurance policy can be used to cover funeral costs as well as any outstanding expenses. In Canada, the cost of a funeral can range from a modest $5,000 to well over $15,000 and this expense would have to be paid by your family if you haven't planned in advance for this cost.
Protect your loved ones from the financial burden of:
Funeral costs
Any debts or mortgages that will need to be paid off
Any taxes you might owe
It is usually a low-cost option that can provide peace of mind for you and your loved ones.
No Medical and Simplified Issue Life Insurance, allows you the freedom and flexibility to secure a reliable life insurance plan that covers your final expenses, without the need for a medical exam or needles. Even if you have health issues you can apply for convenient, reliable, and affordable No Medical life insurance plans.
Also is a great option for people who want life insurance with no medical exam and no waiting period.
Why should you consider Simplified Issue or No Medical Life Insurance?
You're a Canadian citizen, permanent resident or have a valid work or study permit
You have some health problems
You're hard to insure
You have a dangerous job or participate in hazardous or extreme sports
You don't like needles or medical exams
You just want your coverage fast
Health and Dental Insurance
Rising medical and everyday expenses can make the future feel threatening. And without coverage, it can be stressful to pay for the costs on your own.
Personal health insurance (also known as individual health and dental insurance) is coverage that can help Canadians or those living in Canada cover the cost of preventive care or medical bills due to an illness. It can help pay for several health-related expenses, including:
Prescription Drugs
Dental Services
Registered Specialists and Therapists
Home Care and Nursing
Emergency Travel
Vision Care
Accidental Dental Services
Medical Equipment and Supplies
Hearing Aids
And more.
Self-employed or a small business owner? Your premiums may be tax deductible!
Get the protection and peace-of-mind you need.
Critical Illness Insurance
Critical illness can strike anyone, without discrimination and without warning. Would you be financially ready to face a critical illness diagnosis?
The diagnosis of a critical illness is news that has serious consequences. To get through a difficult period, knowing that you can maintain your lifestyle even if you must stop working for an indeterminate period and be able to pay unforeseen costs resulting from the illness is a huge relief. Critical illness insurance provides financial assistance to help you face the diagnosis of a covered critical illness or condition, as defined in the policy.
If you are diagnosed with a critical illness that is covered by your policy, you will receive a tax-free lump sum payment to help you cover the costs of the illness. You can use the money as you see fit, without having to justify how you spend it!
Disability and Income Replacement Insurance
Your most valuable asset isn't your home or your car. It is your ability to earn an income. And disability insurance helps protect just that if an illness or injury prevents you from working.
Disability insurance provides monthly income to cover income lost due to a disability. It's the ideal solutions to avoid a disability-related work stoppage affecting a person's finances and lifestyle.
This coverage is ideal for employees who do not have group disability insurance through their employer, as well as self-employed workers and small business owners. Even better, individual insurance disability benefits are not taxable.
Gives you access to a source of replacement income in case of disability
Makes sure you can continue to meet your financial commitments during your recovery
Helps to cover expenses related to your disability such as physiotherapy, occupational therapy or special equipment
Because it is individual insurance, your monthly benefits are not taxable
Renewal of your coverage is guaranteed if necessary
Mortage Life Insurance
Bundles your mortgage insurance with life insurance plus optional critical illness and disability protection, all in one flexible plan.
Unlike a bank's mortgage insurance policy, you own your Mortgage policy, which stays in effect even if you switch lenders. Only you can cancel it; you're in total control of your policy.
With Mortgage Life Insurance:
Your family receives the benefits if you pass away, not the bank.
Funds can be used as you decide: pay off the mortgage, invest, or maintain your quality of life.
Your premium rate is fixed and guaranteed for the initial term of the policy.
The benefit amount is level for the term of the policy, unless you choose to reduce it, and reducing the benefit amount also reduces the premium rate
You can convert the policy to a permanent insurance plan as the policy allows.
Visitors (Super Visa) and Travel Insurance
Safer travel starts with travel protection
Injury and sickness can happen anytime, anywhere. Travel insurance can provide you and your family with financial protection while you are abroad. The Government of Canada highly recommends that both visitors to Canada and travelling Canadians purchase adequate insurance coverage for their trip (this applies to day trips to the US as well).
Government Health Insurance Plans (OHIP) provide very limited emergency medical coverage for Canadians travelling outside of their province or territory of residence, and visitors to Canada are not covered under Canada's universal health care system. For this reason, it's ideal to purchase travel insurance.
Affordable Travel Insurance Plans for Canadian Residents and Visitors to Canada
Get Travel Insurance for One Trip or Multiple Trips
Worldwide Coverage with Emergency Medical, Trip Cancellations, Interruptions, Delays & More
Small Business Benefits
We provide business owners with insurance to protect the business and its owners in the event of sudden death, critical illness or disability.
 You've worked hard to build your business. Let us help you protect it, while you focus on what matters most. We review of your current programs and putting together the right package for your needs, without over-complication.
Canadian companies come in all shapes and sizes, so doesn't it make sense to find a benefits plan that does too?
Let's design a benefits package that fits your small or medium-sized business' needs, size, and budget.
Our full-range of insurance solutions for businesses, include:
Employees Benefits
Get flexible health and dental coverage to fit your employees – and your budget
Affordable: we build benefit plans designed to grow with your business, minimizing program admin costs
Configurable: build a plan selecting benefit types, giving Canadian businesses a full range of options from basic to fully customized
Usable: Let your business – and your employees – enjoy a convenient and hassle-free benefits plan experience from purchase to renewal
Individual and Business Insurance
As a business owner you have options: your life insurance policy can be personally or corporately owned.
There are tax advantages to a business-owned policy. It provides a one-time, tax-free payout for your business if you, your business partner or key employees die.
Life insurance isn't just a way to help protect your business, it also helps diversify your assets. You also may be able to access the policy's value.
The right life insurance is a powerful and flexible way to mitigate risk, accelerate your business goals and safeguard your enterprise.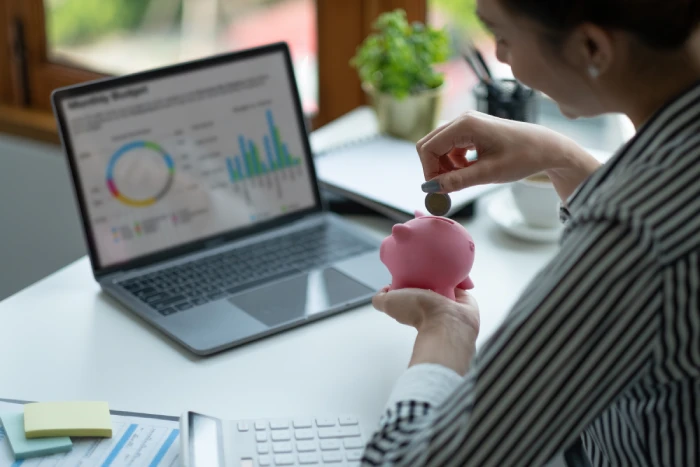 Investments & Financial Planning
Investment management requires putting together a diversified investment portfolio and retirement planning strategy that takes into consideration your time horizon and ensures that you are invested in a risk appropriate manner.
Financial planning involves taking a holistic look at your financial health, by looking at managing all areas of our financial life that takes into consideration your income, expenses, investments and debt.
Coupled with your short- and long-term goals, I can help you successfully chart a path towards successfully achieving your goals through wealth management and protection.
RRSP, RESP
A segregated fund is an investment product similar to a mutual fund, but is distributed exclusively by insurance companies. Segregated funds provide protection against market downturns by insuring 75% or 100% of the amounts invested. For some clients, this guarantee can represent a major advantage, since it limits, or even eliminates, the risk of loss.
RRSP
A Registered Retirement Savings Plan (RRSP) is a savings plan, registered with the Canadian federal government that you can contribute to for retirement purposes.
When you contribute money to a RRSP, your funds are "tax-advantaged", meaning that they're exempt from being taxed in the year you make the contribution. Any investment income earned from investments held within the RRSP can then grow tax-deferred, as long as the money remains within the RRSP, until it's withdrawn.
RRSP contributions are tax-deductible, meaning that they can be deducted on your current year tax return, potentially reducing the total amount of taxes you pay.
RESP
Registered Education Savings Plan
Save for Post-Secondary Education
A registered education savings plan (RESP) is a savings product opened by anybody (parent, grandparent, guardian, friend, etc.) who wants to save for a child's post-secondary education. Contributions to an RESP attract government grants of at least 20%, with certain provinces offering even more.
TSFA
A Tax-Free Savings Account (TFSA) is a powerful registered investment account tool tip you can use to save for any big-ticket item or goal – tax free. If you like more flexibility and less taxes, consider opening a TFSA.
Here's why 60% of Canadians invest in a TFSA:
Pay no taxes on any investment earnings
Contribute even if you're retired or not employed
Contribute for as long as you want to—there's no age limit
Make up for missed contribution room from previous years indefinitely
Withdraw your money at any time for any reason
Use a TFSA to save for anything while also saving for retirement in an RRSP
You can use money from your TFSA at any time, for any purpose.
For example, you can use it to fund:
a dream home,
a wedding,
the cost of childcare,
the cost of healthcare,
an emergency,
retirement, etc.
TFSAs are a safe and smart way to grow your savings without stressing too much about taxes. Just make sure you don't go over your yearly contribution limit.
RRIF
A RRIF is a registered account that provides you with income drawn from the investments and savings in your Registered Retirement Savings Plan (RRSP). RRIFs are similar to RRSPs in that they offer multiple investment options, allow for tax-deferred growth of qualified investments and funds are taxable as income when withdrawn. Unlike RRSPs, however, you can't make new contributions to a RRIF – you can only transfer funds from an RRSP or another RRIF.
You can convert your RRSP (or a portion of it) into a RRIF at any age you wish, but you must transfer all your RRSP funds into a retirement income option by December 31 of the year in which you turn 71.
Investment Loans
Typically, we borrow for two reasons. We want to either:
Buy a big ticket item, such as a car, which generally decreases in value over time or,
Purchase an asset that has the potential to grow in value over time, like a home or RRSP.
With an investment loan, you are borrowing to make a lump sum investment purchase that has the potential to grow in value over time.
Loan programs for investment in RRSPs, TFSAs.
The money from an RRSP loan is meant to be invested in an RRSP.
Advantages of an RRSP Loan
The returns from your RRSP grow tax free in the plan and increase your savings for retirement
The income tax refund from your RRSP contribution can be used to repay a portion of the loan
Options are available to postpone the first loan payment, usually until the tax refund is received
You may invest the borrowed amount in a guaranteed interest account (GIA)or in your choice of segregated funds.
Is the RRSP Loan for you?
The RRSP loan strategy is right for you if:
You want to contribute the maximum amount to your RRSP, either for the current year or to take advantage of your unused contributions
You want to increase your retirement savings but don't have the cash
You are able to repay the loan
You are aware of the risks associated with the RRSP loan strategy
A TFSA loan means borrowing money to invest in a TFSA.
Advantages of a TFSA loan
TFSA returns are tax free
The minimum amount of the loan is $5,000 and you can take up to 10 years to repay it
No penalty if you repay your loan before term
Is the TFSA loan for you?
The TFSA loan is the right investment strategy for you if:
You have reached your annual maximum RRSP contribution limit
You want to grow your savings or set up an emergency fund
You are able to repay this loan
You are aware of the risks associated with the TFSA loan strategy
Estate Planning
Estate planning is the preparation of tasks that serve to manage an individual's asset base in the event of their incapacitation or death.
The planning includes the bequest of assets to heirs and the settlement of estate taxes. Most estate plans are set up with the help of an attorney experienced in estate law.
Annuities
The term "annuity" refers to an insurance contract issued and distributed by financial institutions with the intention of paying out invested funds in a fixed income stream in the future.
Investors invest in or purchase annuities with monthly premiums or lump-sum payments. The holding institution issues a stream of payments in the future for a specified period of time or for the remainder of the annuitant's life.
Annuities are mainly used for retirement purposes and help individuals address the risk of outliving their savings.
As an Independent Insurance Broker, I have access to products from a number of Insurance and Investment companies.  My process involves understanding your goals and needs and developing a strategy with you to help you achieve your goals.  Once we've agreed to your strategy, I will help you select the products or tools that best accomplish your personal financial game plan. An example of Insurance and Investment companies I have access to are:





Email
info@anasotoinsurance.ca
Location
3700 Steeles Ave West, 10th Floor, Woodbridge, ON L4L 8M9
Service Options
Monday to Saturday
By Appointment
Online or On-site Services